Archive for the 'The Risen Lord' Tag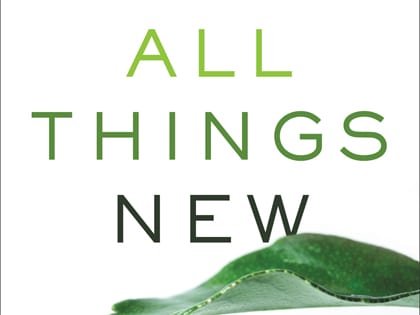 ---
Scripture: Revelation 21:1-8
---
Introduction:
It is not just the work of Jesus that saves us, but Who Jesus IS as our Resurrection, plus what he has done, that saves us! As The Resurrection He was making things new inside our humanity even as he was killing our death in his Incarnate life!
Theological Theme:
In short, we believe:
God, Who is Father, Son and Holy Spirit, is Love; and God Loves You. (If Jesus wasn't the Father's Son then we're not loved!)
The Father made plans to include you in his Love and Life forever, through Jesus, and in the Spirit. (If Jesus wasn't the Father's Son then we aren't included in God's Love and Life!)
The Son, Jesus, Accomplished the Father's Plan 2000 years ago, and IN HIM Who is united to our human nature, we are Forgiven and Included in His Relationship with His Father. (If Jesus wasn't the Father's Son then God's plan isn't accomplished in him, our nature is still corrupt and headed to eternal death, and we're not forgiven!)
The Holy Spirit invites You to Believe this Good News; and in Believing, to Enjoy and Freely Share it with others as the Adopted Child the Father Always Wanted! (If Jesus wasn't the Father's Son, then he couldn't send the Holy Spirit Who he said was vital for us to receive if we wanted to enter the Kingdom, be righteous, have peace, and be saved!)
If Jesus was someone other than THE One who takes us to the Father and sends us the Holy Spirit, then what he did would have no meaning or ability to get us into a relationship with the only God there is: the Father, Son, Holy Spirit God!
Christ Connection:
We're not waiting for our bodily resurrection before Jesus becomes the actual King over everything! Jesus, the Resurrection and King, wasn't talking about making things new simply in the age to come in the future, he was talking about beginning to make all things new right now!!!!
We don't have to wait for Jesus to make all things new fully and finally! He is already beginning right now to make all things new!!
"For me the most radical demand of Christian faith lies in summoning the courage to say yes to the present risenness of Jesus Christ." (and everything else that Christ already is right now even though we can't see it!)
"For me the most radical demand of Christian faith lies in summoning the courage to say yes to the present risenness of Jesus Christ."

– Brennan Manning
We get to go into the resurrection alive! We get to rise from death before we rise from death!
Missional Application:
Jesus is so near and available that just as he walked among people in his day calling for a response to him, he is right now calling for people to make an immediate response to him! His Kingdom on earth has already been inaugurated, just not consummated! It has started, it just hasn't finished, but behold He's already making all things new, so we call on people to believe and receive this Good News and relationship with Jesus!!
We also remind people that there are real consequences to accepting or rejecting Jesus when he approaches us! Overlooking these serious warnings also has an effect of minimizing the meaning
and significance of what Jesus has done and is doing. If there are no real consequences to our encounter with God and his grace in this life then our responses to him are relatively meaningless and insignificant. Presuming upon God's Grace is a Rejection of God's Grace!!
The Father, Son and Holy Spirit God is not trying to wait to be King over everything, and especially you, he's wanting you to receive and live under His Kingly Lordship Now!
"God loves you so utterly and completely that he has given himself for you in Jesus Christ his beloved Son, and has… pledged his very being as God for your salvation….Jesus Christ died for you precisely because you are sinful and utterly unworthy of him, and has thereby already made you his own before and apart from your ever believing in him. He has bound you to himself by his love in a way that he will never let you go, for even if you refuse him and damn yourself in hell his love will never cease. Therefore, repent and believe in Jesus Christ as your Lord and Saviour."

-T. F. Torrance, The Mediation of Christ, 94.
Photos compliments: outreachmagazine.com
Audio – Full Message:
"https://trinityandhumanity.files.wordpress.com/2019/12/19.4.14-the-risen-king-and-the-doubter-john-20.24-29-tah-guest-vinson.mp3"
---
Bible Verses: John 20:24-29
---
At first reading it looks like Thomas was more unbelieving than the other disciples, but this was not necessarily the case. They do not seem to have believed Mary Magdalene when she said she had seen the Lord—it was not until Jesus appeared to them that they were filled with joy (v. 20). Earlier references to Thomas reveal one who was dogged in his commitment to Jesus (11:16) and honest about his doubts (14:5). He refused to believe that Jesus had risen from the dead unless he actually saw the prints of the nails and spear wound for himself. By the way, this shows that the disciples and the evangelist were talking about a bodily resurrection of Jesus, not some spiritual survival beyond death."  – Colin F. Kruse
Theological Theme:
Faith is the reality of what is hoped for, the proof of what is not seen.
Christ Connection:
Although Thomas doubted the testimony of the other disciples, he was blessed to encounter the risen Jesus for himself. He saw Jesus in His resurrected and glorified body and placed his hands in the scars from the cross, the signs of Christ's unfailing love for His people. Though we have not seen Jesus with our eyes, with Thomas we confess by faith that Jesus Christ is our Lord and our God.
"Christ demonstrates his victory over death, not by feats of strength, not by more and more spectacular miracles, but by wounds: nail holes, spear marks. Behold, the lamb who was slain." – Mark Buchanan
Missional Application:
God the Father calls us to be patient with doubters as we bear witness to His Son, whom we have seen only with the eyes of faith, in the Spirit.
"But do thou, when thou seest the unbelief of the disciple, consider the lovingkindness of the Lord, how for the sake of a single soul He showed Himself with His wounds, and cometh in order to save even the one." 17 –John Chrysostom (circa 347-407)

Faith Biblical faith is the resting, or trusting, in Christ alone for salvation (John 3:16-21). More than being simply a mental agreement of historical facts, genuine faith begins with a recognition and confession of the truth of the gospel (1 John 4:13-16), followed by a receiving of Christ as Lord and Savior of one's life (John 1:10-13). Biblical faith is not blind faith, for it rests on the historical life, death, and resurrection of Christ. – The Gospel Project
Photo Compliments: slideshare.net